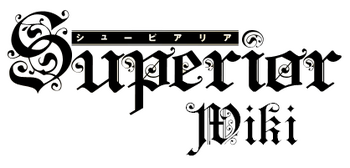 Welcome to Superior Wiki! This Community Portal is here to help you get started!
Creating a username and password is strongly encouraged; it's free and takes only a minute, and it gives you greater anonymity if that is your wish. In addition, it is easier for other contributors to ask you questions and help you. Furthermore, with creating an account you get your own user page, a space on the site for editors to tell the community about themselves; and a user talk page, which allows editors to receive messages from others. All editors are encouraged to use the talk pages for any concerns and participate in community discussions.
General questions or comments about the wiki can be left here. In case you're stuck and need some help, you can visit the Help Desk or ask your nearest admin.
New to wikis?
Helping out

If you want to help but you're not sure where to start, try improving the various stub articles by adding content.
Another helpful activity would be to check the list of wanted pages for frequently linked-to articles that don't exist yet.
You can also write a new article that's on the the wanted list!

Something you want to discuss?
Other links
Ad blocker interference detected!
Wikia is a free-to-use site that makes money from advertising. We have a modified experience for viewers using ad blockers

Wikia is not accessible if you've made further modifications. Remove the custom ad blocker rule(s) and the page will load as expected.